Keyboardable is supported by our community. When you buy through links on our site, we may earn an affiliate commission.
As an Amazon Associate, Keyboardable earns from qualifying purchases.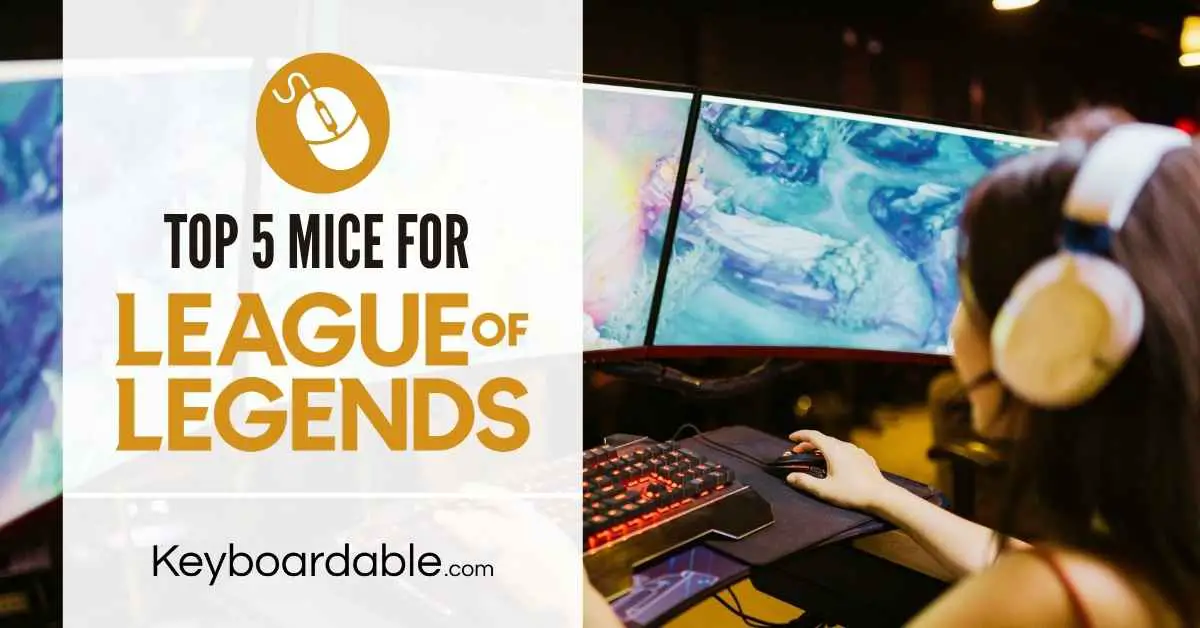 League of Legends is an extremely popular game that has taken the gaming world by storm. It's a fast-paced MOBA with over 100 million players worldwide and counting. The popularity of League of Legends has also led to the surge in demand for high-end mice, as its gameplay requires quick reflexes and precision aiming abilities. We're here to help you find the best mouse for League of Legends!
We've compiled a list of 5 mice that we recommend for playing League of Legends — Logitech G502, SteelSeries Rival 600, Razer DeathAdder Chroma, Roccat Kone Pro, and Corsair Scimitar Elite.
Why Do You Need a Good Mouse to Play League of Legends?
If you're a League of Legends player, having a good mouse is essential, as so much of the gameplay relies on mouse movement. This requires a mouse with incredible amounts of precision, speed, and accuracy.
With this in mind, you'll want a gaming mouse with customizable DPI settings that allows you to adjust the cursor's sensitivity so you can have quick reaction times and aim skill shots effectively. Nothing is worse than being in the middle of a teamfight for Baron and your mouse just can't target your skill shots fast enough to steal the kill.
What to Look for In a Mouse for League of Legends
There are a lot of gaming mice on the market, and it can be difficult to pick out the best one. When shopping for a mouse for League of Legends, you'll want to check that the DPI ranges from 800 to 12000, and a lift-off distance of less than two millimeters.
The mouse should also have customizable buttons for your thumb so you can bind pings to them. This makes it really quick to communicate with your team just by pointing at a location on the map and clicking.
You'll also want to make sure that the mouse is ergonomic. League matches can last a long time, and if you're playing a few matches in a row, that's a lot of time to spend with your hand gripping the mouse. Ensuring that the mouse is comfortable for long play sessions will help ease the strain in your fingers, hands, and wrists.
You should also find a mouse that is lightweight. The heavier the mouse, the harder it will be to move around quickly and precisely during League of Legends matches.
Lastly, you'll want your mouse to have long battery life if you're shopping for a wireless mouse. A mouse dying in the middle of a match can be the difference between victory or defeat, and you definitely don't want that to happen during one of your ranked promotional games.
If you're going for a wired gaming mouse instead of a wireless gaming mouse, you'll want to pick one with a braided cable. Braided cables last longer and are generally lighter weight than standard rubber-coated cables, so
1. Logitech G502
Our number 1 pick for the best League of Legends mouse is the Logitech G502. The Logitech G502 is arguably on of the best mouse models on the market, and it's ideal for competitive gaming. It's lightweight, has a great DPI range, and has what is hands down the best scroll wheel on a gaming mouse EVER. (Seriously, the scroll wheel on a Logitech mouse will ruin you for all other scroll wheels.)
This mouse comes in two versions, the wireless Logitech G502 Lightspeed, and the wired Logitech G502 HERO. Which one you pic really depends on your price and your budget. The Lightspeed generally costs 2.5-3 times more than the G502 HERO, so if money is an object for you, go with the HERO. If you're good with dropping some cash and prefer wireless mice, it's hard to find a better one than the G502 Lightspeed.
The G502 isn't just great for gaming. It's honestly also just a great all-around productivity mouse. Whether you're into 3D modeling, writing, or just browsing social media, this mouse does it all exceptionally well. Even compared to Logitech's MX Master series of mice, the G502 won in our hands-on testing for general productivity.
or
2. Razer Basilisk
If you're a fan of Razer products and like all your peripherals glowing with matching colors in Razer Chroma, look no further than the Razer Basilisk. It was designed with direct input from eSports athletes who had problems finding a mouse that could handle both quick movements in gameplay as well as long-lasting comfort.
Much like the Logitech G502, there are multiple models of this mouse. The more affordable wired version is the standard Razer Basilisk V3. This is an 11 button mouse with 26k Optical DPI.
There are two wireless versions, the Basilisk Ultimate and the Basilisk X Hyperspeed. The Basilisk Ultimate is the more expensive of the two, and features the same 11 programmable buttons the Basilisk V3 has. This model has an advertised 100 hour battery life.
The Basilisk X Hyperspeed on the other hand is a little different than it's siblings. The Basilisk X Hyperspeed only features 6 programmable buttons and 16k Optical DPI, but features a whopping 450 hours of battery life in Bluetooth mode. It's also cheaper than the Basilisk Ultimate, so if you're looking for a budget wireless mouse, this is a good choice.
The design is very similar to Logitech's G502, so if you're not locked into the Razer Chroma ecosystem, I'd still recommend going with that one.
or
or
3. SteelSeries Rival 600 and 650
SteelSeries makes great mice, and the SteelSeries Rival 600 and the SteelSeries Rival 650 are no different. The Rival 600 is a solid mouse for both gaming and productivity, with 12,000 CPI, 350+ IPS, and 50g's of mouse acceleration with SteelSeries TrueMove tech. The SteelSeries Rival 650 features the same core tech, but is the wireless version of the 600.
One unique thing about the SteelSeries Rival 600 and SteelSeries Rival 650 is that they both feature 8 individually customizable RGB zones. If you like your mice to have a lot of RGB, a Rival might be your mouse.
The other truly unique thing they employ is a dual sensor system. While one sensor does the traditional job of moving the mouse around, the other sensor tracks depth to tell if you've lifted the mouse off of the desk. Because of this, the mouse will move less when you lift it off of the desk, making for more stable gameplay.
or
4. ROCCAT Kone Pro
The ROCCAT Kone Pro and the ROCCAT Kone Pro Air are ROCCAT's eSport mouse offerings. Both feature the same sensors and features, but the Kone Pro is a wired mouse whereas the Kone Pro Air is a wireless mouse. Both pack a 19k DPI Owl-Eye sensor, mouse button lighting, and are NVIDIA Reflex verified.
The ROCCAT Kone Pro and Kone Pro Air are the only mice on the list to employ optical mouse button switches. They're also the lightest mice on the list at only 66 grams for the wired Kone Pro and 75 grams for the Kone Pro Air.
The wired Kone Pro features an ultra-lightweight PhantomFlex cable to make the experience of using a wired mouse as wireless-like as possible. The Kone Air features both Bluetooth and ROCCAT's Stellar Wireless.
or
5. Corsair Scimitar Elite
If you like buttons, the Corsair Scimitar Elite is the mouse for you. There are a whopping 17 programmable buttons on this bad boy, and you can change which button configuration you're using on the fly. You can program all the buttons in iCUE, Corsair's customization software. This mouse also features an 18k DPI optical sensor with adjustable DPI.
The 12 button side panel on the Scimitar Elite is what really differentiates it from the rest of the list. Map your pings, abilities, or emotes to the buttons so you can keep your fingers on the QWER keys where they matter in case the jungler suddenly ganks while you're busy emote spamming over your dead opponent's body. The button panel has adjustable positioning, so you can place it where it's most comfortable for your thumb to reach.
The mouse features Omron mouse button switches, and out of the mice we tested, these felt the lightest weight and resulted in the least fatigue. What can result in fatigue, however, is the Scimitar Elite's size. It's a chonky mouse, so we recommend getting a mouse wrist rest when using this to keep your wrist at a good angle.